Prix ​​Wild Risk, Listed for horses 5 years and older over 3,900 m, Brexit (No Risk at all), least experienced horse in the event, confirms its worth . After losing to Feu Follet at Compiègne, Brexiteer won his Today's List at Auteuil for coaching Daniela Mele and riding Kevin Nabet. Taking the race lead at the entrance of the opposite line, he imposed his rule on the pole. Samelor (Samum) tries in vain to catch up with him and finishes at 3.5. At the same distance we find Cesar de Ballon (Doctor Dino) before Chichi de La Vega (Nom De D'La). Brexit, owned by ML Bloodstock Ltd, was bred by A.Hébert and is sure to be seen again in the Prix des Drags on June 11.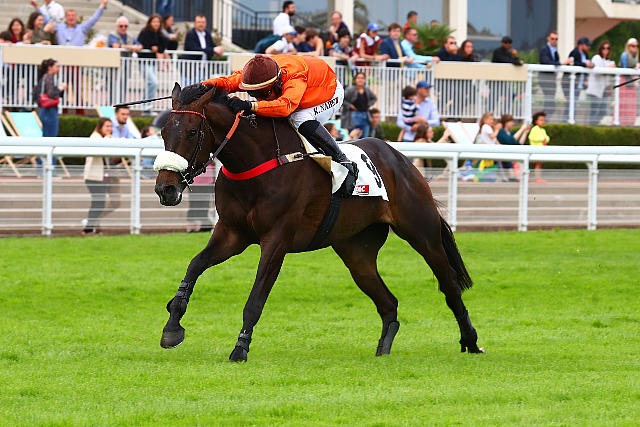 square
Horse
Next site
01
BREXIT
December seed sale – Arqana 2016: Sell 11,000 €
Your Majesty: NO RISK – Haras de Montaigu – 12,000 € (2022)
Mother: SONATE JEM
Owner: Ml Bloodstock Ltd
Breeder: Hebert Andre
Coach: Mele Daniela
Jockey: Nabet Kevin
02
SAMELOR
Fall Sale – Arqana 2017: Sold 23,000 €
Father: SAMUM
Mom: FREE SKY
Owner: Authier Guy
Breeder: Deshayes Jean-Paul – Deshayes Marie-Odile
Coach: Boisbrunet(s)
Runner: Alain Chitray
03
CAESAR BALLOON
DOCTOR: DOCTOR DINO – Haras du Mesnil – 20,000 € (2022)
Mother: NILE ALTESSE
Owner: Haynes Alasdair
Breeder: Gasche-Luc Robert
Coach: Carberry(s)
Jockey: Lestrade Bertrand
04
CHICHI DE LA VEGA
100% Obstacle – Osarus 2019: Sold 11,000 €
Sire: NOM DE D'LA – Figerro Breeding – € 2,200 (2022)
Mother: CESARINE PALACE
Owner: Collet(s)
Breeder: Gallorini Jean-Paul – Gallorini Berger Cesare
Coach: Collet(s)
Runner: Philipperon Ludovic
05
OBEAUX DIVA
Sire: SPANISH MOON – Haras d'Annebault – €5,000 (2022)
Mother: DENDHERA
Owner: Devilder Nicolas
Breeder: Devilder Nicolas – Devilder Nicolas
Coach: Devilder Nicolas
Jockey: Olivier Jouin
06
ANOUMA FREEDOM
Father: HANNOUMA
Mother: FORGET FREEDOM
Owner: Dumas Philippe Georges
Breeder: Navet Thierry
Coach: Fouin(s)
Jockey: Desoutter Nathalie
07
BACKLEG
Sire: HORSE NEWS – Haras de la Baie – €2,500 (2022)
Mother: NYMPHE DE SIVOLA
Owner: Ecurie Jaeckin
Breeder: Ecurie Jaeckin
Coach: Adda & Renaut
Jockey: Reveley James
08
HOKUSAI VALLIS
Father: MARTALINE
Mother: ATHENA VALLIS
Owner: Dutertre Andre-Noel
Breeder: Dutertre Andre-Noel
Coach: Viel(s)
Jockey: Giles Felix
09
SPY OF VINDECY
Father: SECRET AGENT
Mother: AMAZONE DE BALME
Owner: Sasu Scuderia Christian Troger
Breeder: Crane Annie – Seror Mickael
Coach: Satalia Davide
Runner: Faivre-Picon Gauvain
ten
KING ELVIS
Summer Sale – Arqana 2017: Sold €100,000
Sire: SAINT DES SAINTS – Haras d'Etreham – 15,000 € (2022)
Mother: GRASICA
Owner: Jdg Bloodstock Services
Breeder: Conesa Gilbert – Mousquetaire Investigation Agency
Coach: Chaille-Chaille Arnaud
Jockey: Dubourg Pierre
11
TIGER TAP TAP

GER


Sales & Racing Festival – BBAG 2017: € 13,000 unsold
Sire: JUKEBOX JURY: Burgage Stud – €6,500 (2022)
Mother: TOMATO FINISH
Owner: Sutton Samuel
Breeder: Kaufling Volker
Coach: Sophie Leech
Jockey: Mullins Daniel Edward
twelfth
RUN KING
Father: BORN KING
Mother: RUN
Owner: Philippe Ponsot
Breeder(s): Ecurie De La Verte Vallee
Coach: Fouin(s)
Jockey: Andrieux Tanguy
13
YELLOW BUTTERFLY

UK


Yearling Sale – Arqana 2013: Sold €15,000
Your Majesty: THE BEST KING
Mother: BELLA PLATINA
Owner: Le Breton Patricia
Breeder: Black Type Limited
Coach: Collet Gerard
Jockey: Charron Johnny
14
CRAZY FROM BRAZIL
Sire: BLUE BRAZIL: Glenview Stud – o / a (2022)
Mom: BEAUTIFUL WAITING
Owner: Fouin(s)
Breeder: Besnouin Marie-Laure – Feuillet-Besnouin Jean-Michel
Coach: Fouin(s)
Jockey: Da Silva Jeremy
.