A member of the French team that won the Nations Cup at CSIO 3* in Uggerhalne at the end of May in Denmark, Alix Ragot is one of the "new faces" to proudly wear a blue jacket this year. Powered by a new federal framework that focuses on launching new couples at heart, Eurélien lives up to the good times with his gray Coldplay EJ. Managing the family barn, which raises the Pégase, he hopes to reach the highest level with some of the productions of his former star, Thaïs de Pégase. On the occasion of the Compiègne Classic event last weekend, the friendly 30-year-old allowed himself to play a question and answer game.
---
---
How's your weekend going?
In terms of organization, there is nothing to say and the premises are monumental. The temperature is a bit high but the schedule of events has been adjusted, which is good. About me, today is a day without (interview conducted on Saturday night, after a day marked by twelve points in qualifying at 1.50m and exclusion at 1.40m, editor's note). I may have been shorter in form but my horses are still jumping well. Yesterday was better but my Grand Prix horse, Coldplay EJ (OC, Zilverstar T x Kashmir van't Schuttersho), hurt a little. He groped and opened his feet so it wasn't very comfortable. So he made some small mistakes. (the pair went off the track with twelve qualifying points at 1.50m, editor's note). Nothing serious but I don't want to risk by blowing it again.
What horses did you take and with what goals?
I joined Coldplay, so got a bad performance hit. I wanted to go as far as possible with him, even if I knew he would one day be sold, like all the horses in my stable.
I also have Diaz from Ush (SF, Kapitol d'Argonne x Quaprice Bois Margot Quincy), a nine-year-old mare still needs to learn and is very sensitive. I have to spend my time with her. And I have Expression'Quill (SF, One Dollar from Blondel x Gipsy from St Martin), an eight year old mare has achieved great things this year with a height of 1.45m. Finally, I come to Gracieuse de Laume (SF, Utrillo vs Heffinck), a six-year-old mare that I just bought with one of my owners. Of course, she's there to take on the business. Not forgetting the Forest d'Aurel (SF, Kannan x Limbo)seven years old, who had a string of clear rings.
How did you meet Coldplay?
I bought a mare which I later sold. I chose Coldplay, which one of my owners bought. I have always believed in him. He was never the best technique or the most educated, but he was a horse that always wanted to please his rider. I've always had a really good feeling in the saddle and most of all, I'm sharing this story with a friend so it's pretty cool, even though I know it'll go on sale someday.
You entered CSIO 3* at Uggerhalne with him, winning the National Cup, where you completed two rounds of four points, before finishing eighth at the Grand Prix. That's your third CSIO pick. What is your feeling? How far do you think you can go with him?
Great, I was with a very good team. Winning the Cup is great. My teammates have been exemplary (double clear triple ring sign, editor's note). Coldplay jumped the CSI 4* Grands Prix last year well so it's pretty hard to say. This year, he made some pretty clear laps even if it took him a little while to get back on track when he started. Aside from his poor performance yesterday, he's not lacking in a lot of things, so we'll see.
Do you think he can open the doors of CSI 5* for you?
I don't know, we still hope to have this opportunity. If I get a chance someday, I won't hesitate for a second. I think everyone dreams of going to Aachen for example, but I'm realistic. The road is still long.
---
---
"Many couples would not have emerged from the shadows without the Longines EEF series"
This year, we see a lot of new couples appearing in CSIO and the teams are very diverse. What do you think?
That is a very good thing. I can take myself as an example, having benefited from the framework reorganization (departure of Thierry Pomel, former national coach, replaced by Henk Nooren, editor's note) and the door was opened for me. Longines also did well to be involved in the Nations' Cup series created by the European Equestrian Federation (EEF). They did a lot of research on the project and turned it into something that was actually built by programming, like the semi-final in Deauville (taking place this weekend as part of Sotheby's International Realty CSIO Deauville, editor's note). This is a good thing for all countries, thus possibly launching new duos. Many couples or riders wouldn't have emerged from the shadows without this lap, which presents a chance for many.
Everyone thinks what they want, but the Nations Cup is not a Sunday Grand Prix. It was a really special event in which there was a lot of adrenaline. What we're talking about is necessarily a bit less difficult than CSIO 5* but that doesn't stop different countries from sending very good teams. When I see people in Denmark or even in Gorla Minore (last week, editor's note)I tell myself that some very good pairings have been chosen, especially in the British team.
How important is this series to you this year?
Honestly, I didn't even think about participating in a Cup this year. My side designed the competition program. After the hunt for the French Pro Elite title, Édouard Coupérie (assistant national coach, editor's note) came to ask me if I wanted to go to Uggerhalne. I obviously accepted, and with great pleasure. I know there are a lot of better riders than me. I always try to do my best without going against my horses. If they are ready, I go; If not, I wait.
Besides Coldplay, do you think you have another horse ready for this level?
Coldplay is clearly best suited to skip these tests. This year, I sold a lot of horses, so there are few in the stables. I have mainly young people coming, including Gold Sky from Pégase (SF, Herzensdieb), six years. He is the son of my Thai stallion from Pégase (SF, Calvaro x Emir Platiere). He was born at home. I really believe that he will be able to achieve very good events.
---
---
"Gold Sky is not for sale"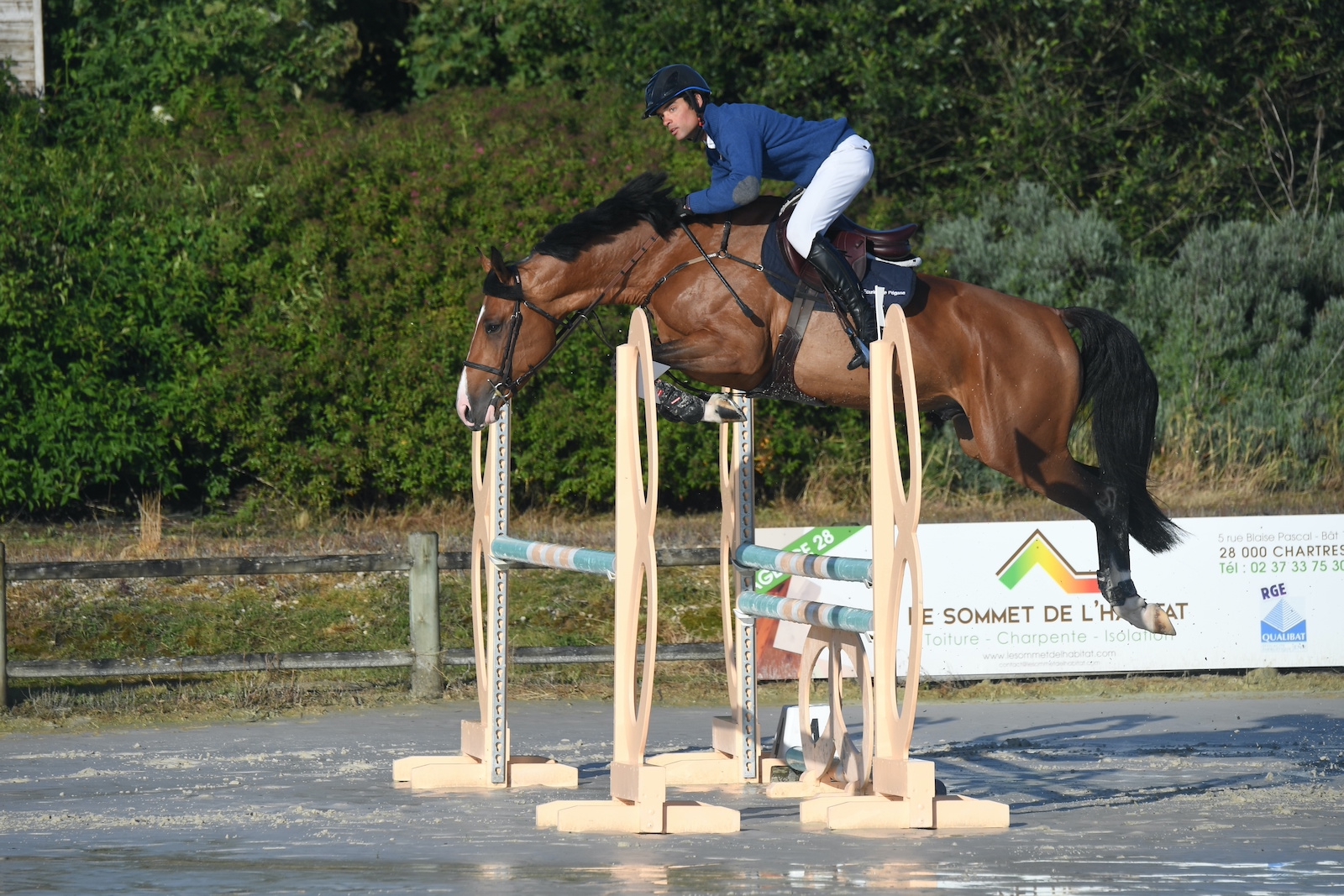 Last year, you won the French championship for five-year-old horses with the Gold Sky de Pégase. Do you mainly rely on horses from your breeding for the rest of your career?
Achieving such results with a horse we have bred and trained has always pleased us, but the foundation of our business remains commercial. I sold half of this horse to try to raise it for a few more seasons. Today it is not for sale. If I can hope to compete at a high level with a horse, it's with him so I'll try to keep him. It's our dream and what keeps us awake in the morning. I could be wrong – it's always hard to judge myself – but when I compare his qualities and my feelings under the saddle with those of his father, whom I rode at altitude, they seem even better to me. They are the same: wonderfully intelligent, respected, envious. If I ride well, I'm not at fault.
My ponies aren't all from Thailand, but we do have two or three a year, and they seem to be producing very well.
Is he the only one you intend to keep? Do you trust other Thaïs products?
I do not know. We've sold a lot this year so I'm currently trying to keep a few. I have great owners who follow me around, but they also have to find interest in it and keep the store running. We buy and resell a lot. Do not rule out the possibility that tomorrow we will find a horse and say to ourselves: "This one, we keep it for sport". However, I had to maintain my structure and selling was still the goal to be achieved.
I now have a four-year-old who looks as good as Happy Day O'Moulin (SF, Thais of Pegasus x For Pleasure), five years old, although a bit late, but also very promising. I unfortunately sold others.
How exactly do you manage your structure?
I am not alone, my father helps me a lot. It was a very stable family. Moreover, it was he who put me on horseback. He has always dreamed of being a racer but he only rides a bit at home. My parents are not professional at all. It's their hobby, that's great. It's because of them that I am here, because they have created something that is not accessible to everyone, and I am very grateful to them. For example, they always refuse to sell Thaïs to give me access to certain events. Obviously we want to do more and better, but what we've achieved has been astounding.
Aren't you afraid, because it's too much, to put aside your senior career?
No, I'm lucky enough to always have a horse capable of jumping at least 1.45m or 1.50m. It's not CSI 5* but it keeps me going. Sometimes, when there are fewer horses or having a bad day like today, I get a bit down and think that maybe I'm just good at riding young people, but that's the life of all riders. We've all been there and it won't be the last. That is also part of our job. I'll try to build something around Gold Sky and we'll see what happens next. Those who play continuously in CSI 5* are all classed. They have nothing to prove and run real systems. We can only learn from them and be inspired to evolve our structure. All the better if I succeed. If not, I'll be glad I made it this far.
How do you imagine all of this evolving over the next few years?
At best, I don't want as many horses, fifteen to twenty as now. I'd like to hire a young equestrian to train four- to five-year-olds, even six-year-olds. Obviously, I want to try to get to the top level. Finally, I want to develop the commercial on an international scale. I don't have a huge network, but I would like to have contacts in the US and everywhere to simplify marketing, even if I am fortunate to have a lot of friends helping me, including Axel van colen.
---
---
---