T6.180 Methane Power is a multi-purpose agricultural tractor that runs 100% on biomethaneThe only one so far on the market. "This fuel promotes energy autonomy of farms and has improved or even negative carbon emissions with performance similar to that of diesel tractors, specify the manufacturer. OFFERThe cost of use is drastically reduced and this reduction can be up to 30%. » Specifications: maximum EPM power 132/180 kW/hp, rated engine speed: 2,200 rpm, Electro Command™ transmission and maximum linkage capacity of 7,864 kg.
To explore at the Sommet de l'Élevage: Exterior – Stand 0518 and on newholland.com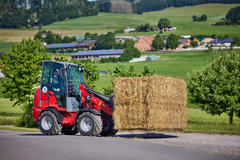 Weidemann's farm hand 1190e is fully electric and is powered by three different Li-ion batteries of your choice. According to the German manufacturer, the model is as multifunctional as its diesel counterpart. "All farm tasks can be done with this machine. »
To explore at the Sommet de l'Élevage: Exterior – Stand 0614 and on weidemann.de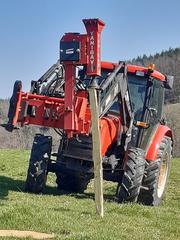 Easily control posts with MPEV 600 CT. Manufacturer Yanigav has been awarded the MPEV 600 CT, a postal driver for carriers (tractors, remote control machines, excavators, excavators, etc.) that guarantees no vibration in the arms. Pile clamp prevents users from having to leave the service provider to make a deposit.
To explore at the Sommet de l'Élevage: Exterior – Stand 1705 and on yanigav.fr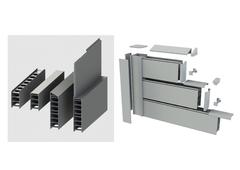 New building materials 85% recycled PVC, SRP Concept's modular formwork based on an intelligent interconnected formwork system has been the subject of an in-depth study by Serba (concrete design office). This two-layer wall clamp has central cells, poured or not of concrete, depending on the configuration of the projects. Easy to implement, including self-construction, it is an alternative to traditional construction methods and replaces closed walls, retaining walls, prefabricated walls… and greatly facilitates for the construction of fixed or mobile scraper walls, peripheral walls, sills, stools, milking room walls, cabinet walls, docks.
To explore at the Sommet de l'Élevage: Hall 2 – Stand A 15 and on srpconcept.fr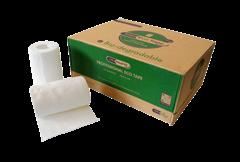 Developed with natural fabrics by Intracare, Intra Eco Tape combines elasticity, easy tearing and adhesion. Two in one, bandage and compress, and its oxygen permeability promotes skin regeneration. Its plus: it's biodegradable and can be self-removed after two days.
To explore at the Sommet de l'Élevage: Hall 2 – Stand F 15 and on syntheseelevage.com
The goal of the Éloi farm clusters is to regulate disease transmission farms at the request of the project leader at the time of installation to ensure restoration. Specifically, the Éloi company buys a farm from a transferor which it resells under several entities (two or three) to promoters of agricultural projects. Then a cluster is a group of two to three additional activities on the same site. Each farmer is independent from his neighbour, the owner of his operation, but can benefit from synergies and mutual support.
To explore at the Sommet de l'Élevage: Hall 1 – Stand G8 and on eloi.eu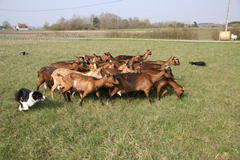 The Institute of Livestock Production hosts the multi-partner project Canidéa to develop tools for selecting service dogs. The objective was to characterize herding dogs in terms of the proportions between their natural abilities and the functioning of the animals handled. The project revolved around two phases carried out in parallel: analyzing existing data and designing and implementing a specific test to identify the naturally gifted dogs necessary and essential to handle. animal. These dogs are said to have an interesting "use value". They can convey messages to animals, reducing the balance of power to a minimum (preventing runaways, keeping animals together, getting close to drivers, confronting animals if respectfully necessary and causes movement in animals). animals, without predatory behavior). This allows each member of the trio (herder – herd – dog) to find his or her own balance on the farm, where the breeder has a privileged position.
To explore at the Sommet de l'Élevage: Outside – Stand 0530 and on idele.fr/chiens-de-troupeau/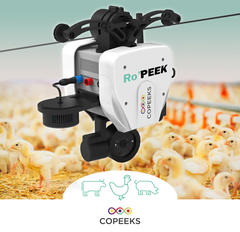 Automated and Automated Robotic Tools, Ro'Peek is a new robot developed by Copeeks. This automated aerial tool can be deployed to map the surroundings of a building and the location of animals in real time. It moves continuously and continues along its cable. Rotating camera makes it possible to capture information on both sides of the day and night (infrared vision). Automated analysis of image and sensor data enables in-depth and spatial-temporal knowledge of the production space.
To explore at Space: Hall 4, stand B46 and on copeks.fr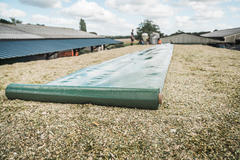 TriO2 cover is a silage cover made from at least 40% recycled plastic post-consumer (PCR) with superior specifications and no non-recyclable additives. Its role is to maintain the lack of oxygen in the silo to preserve the harvested fodder and limit losses. "The thickness of 115 microns and the high resistance (darts > 1,000 g) allow for easy installation on silos", manufacturer Trioworld said. In addition, thanks to an adapted composition, its oxygen blocking properties have been improved compared to other standard tarpaulins (oxygen transmission <180 cm3/m2/24 hours) resulting in minimal loss of protection. exist.
To check out at Space: Hall 9, stand D88 and on triosilo.com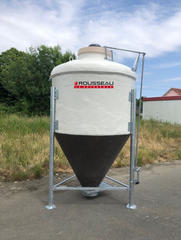 Rousseau designed his Ministar silo by replacing vibrating glass with plant fiber. Therefore, several types of flax fibers are used: woven in roving, short flax in tatami mats, flax in veils. "In addition, the polyester resin used is a bio-based plastic, consisting of up to 39% renewable raw materials."its manufacturer said.
With a capacity of 2.5 m3Ministar is available in a 0.7 density version (grain, granule, cereal but also wood pellets) but also 1.5 for mineral storage (food supplement).
To explore at Space: Hall 3, stand D37 and on rousseau.fr
Fengtech's ETF Solar Thermal System Uses Vacuum Tubes capture the direct, diffuse and reflected rays of the sun to heat the water. The water thus heated is stored in the balloons. "Farmers typically save more than 50% of their energy," says the designer.
To explore at Space: Hall 4; stand D106 and on Fengtech.fr