Eleven years after he was last selected for the national team, Resende Alves' Bernardo Cardoso will don the Brazilian national team's blue jersey in the next few days. Chosen by Philippe Guerdat, who led the Blues to an Olympic gold medal in Rio in 2016, to represent his country, the forty-seven-year-old seems ready to take on this new challenge. . To help him in his quest, he can count on Mosito van het Hellehof, whom he praises for high quality. The late Canturo's old driver, who died at the beginning of the year, shined next to Knokke, at the beginning of the month. Enough to approach the world championship in Herning with serenity. Now installed in Muze's stable, at Joris de Brabander, Auriverde even allows self-projection until the Olympic Games in Paris 2024. Interview.
A few days later announced your choice for the world championshipHow are you ?
I'm very happy. Mosito van het Hellehof (BWP, Elvis ter Putte x Nabab de Rêve) quite young and inexperienced in this line. At the beginning of the year, Philippe Guerdat (Brazil national team coacheditor's note) asked me to do his show and told me we would see at the end of the season if he was ready for this deadline. I haven't been to many big shows or National Cups to try him out but he's always there whenever I ask him for something. Philippe thinks it's a good thing that I take part in this championship.
You have not participated in such a deadline since the Pan American Games in Guadalajara, Mexico, in 2011. You must be feeling very excited as this meeting approaches…
I'm very happy. I've won other worlds, in 2002, 2006 and 2010 with Haras de Joter, with whom I worked for a long time. Then I tried to find new sponsors and I had a hard time finding good horses. Thank you Joris de Brabander, from Muze school I started riding El Torreo de Muze (sBs, Apple Taran x Vigo d'Arsouilles)with whom I have won several Grands Prix, especially in Morocco (of CSI 4* in Rabat, in 2019, editor's note) and Bourg-en-Bresse (in 2021, editor's note).
I've been riding Mosito for two years and honestly, I think he's the best horse I've ridden in my life. He won his first Grand Prix in October in Lier and booked everywhere after that. He won the Sunshine Tour in Italy and finished second in Knokke, in his first 5* Grand Prix. He's a horse on another level, I've never ridden one like him.
Bernardo Alves, here with El Torreo de Muze. © Sportfot
"I had a complicated period in which I didn't have a good horse"
Are you afraid to wear the blue jacket again on such a deadline?
No. In competition, I am very calm and serene. I know everyone and am the oldest on the team. We have cycled together many times, nothing stressful at all.
In a few months you have found your very high form and your place in the Brazilian team. How did this comeback happen? What prompted it?
CSI 5* is only accessible by horse. I had a complicated period in which I didn't have a good horse. Now, with the people I go with, including Mosito and Torreo, anything is possible. Thanks to them, I'm sure I can continue to climb the world rankings and dance big events. After the championship, I will give Mosito a little rest. With two horses, it's hard to get into the top twenty or the best riders, but, with a good result at Herning and a good finish to the year, I could climb into the hundreds, even fifty…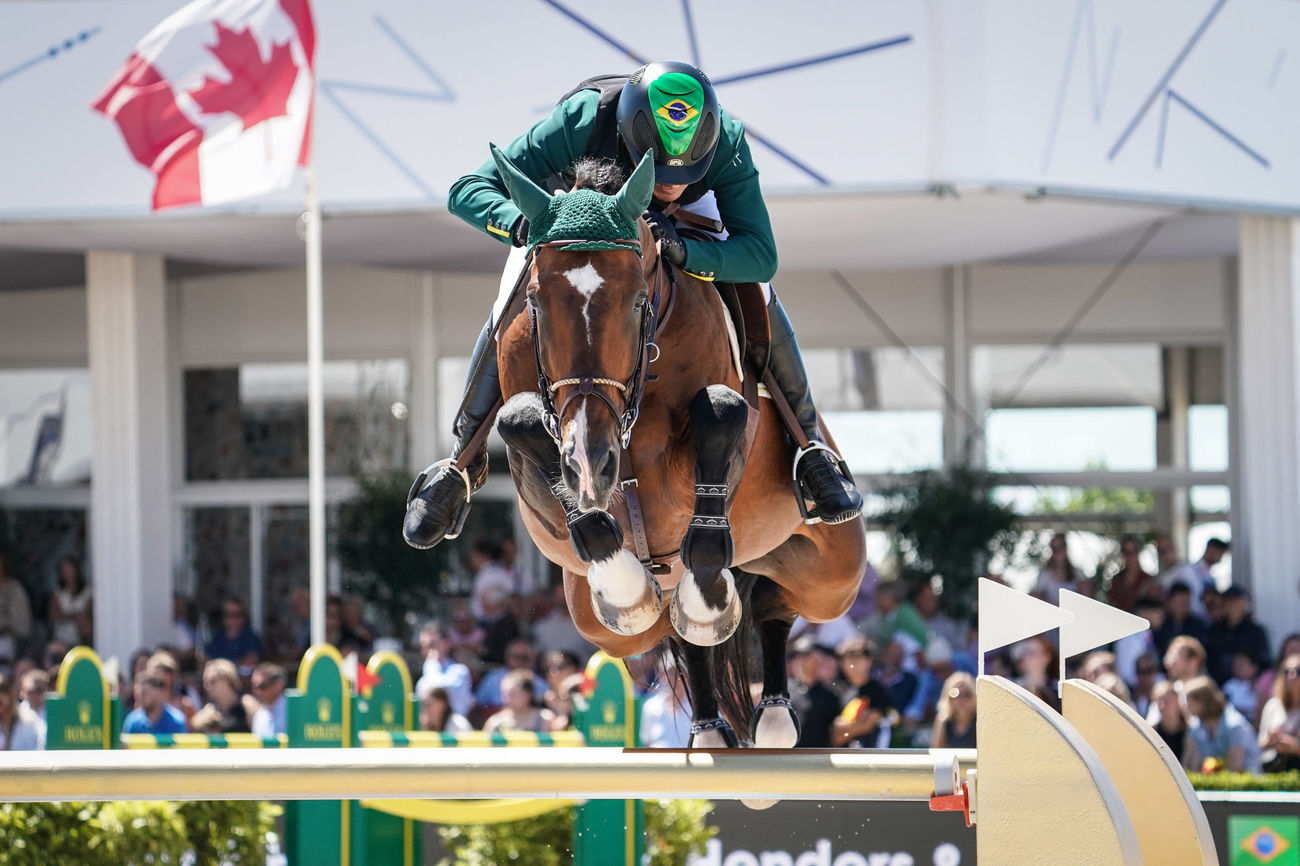 Mosito, here in the Knokke Nations Cup. © Scoopdyga
He also maintained good form thanks to El Torreo de Muze, who attended last year's Nations Cup final in Barcelona. Have you considered taking him to Herning?
Mosito won his first Grand Prix (2 * at 1.45m, editor's note) in Lierre in October and from that point on I told myself it was on a whole new level. I decided to let him work more, let him develop as much as possible. Torreo put in a lot of effort in the last year. He doesn't have much experience but has danced in Aix-la-Chapelle, Barcelona… He has enjoyed a calmer year.
"Mosito is really ready"
Mosito van het Hellehof will accompany you on this adventure, how do you feel?
He just finished second at Knokke's 5* Grand Prix. For me he was really ready. I did a training in Kronenberg on Thursday (July 21, editor's note), in CSI 2* time and I think that's enough. I don't have to try harder. He will not be on the field before the start; This course is the last iteration.
Since late April, he's been on most of his outings. His impeccable consistency would surely put the World at ease, wouldn't it?
It is the most respectful horse I have. Even with the little experience he has, he is still the best horse I have ridden. In his first event at 1.60m, he finished sixth (during Wiesbaden's Grand Prix 4* in early June, editor's note). The championship will be progressing and the first day won't be very volatile so we'll see, we'll focus on a very strong team. If I judge that it has become too difficult and the team has no chance of reaching the final, I may decide to stop. But if he keeps dancing like that, I can hope to do well.
How have you been with this ten-year-old steed, whom you have ridden since 2020?
I rode El Torreo de Muze, which belonged to Joris de Brabander. I started working in another stable but I liked the horses more than with the people who worked there. Joris then suggested that I come ride at his house and give me several horses, including Mosito.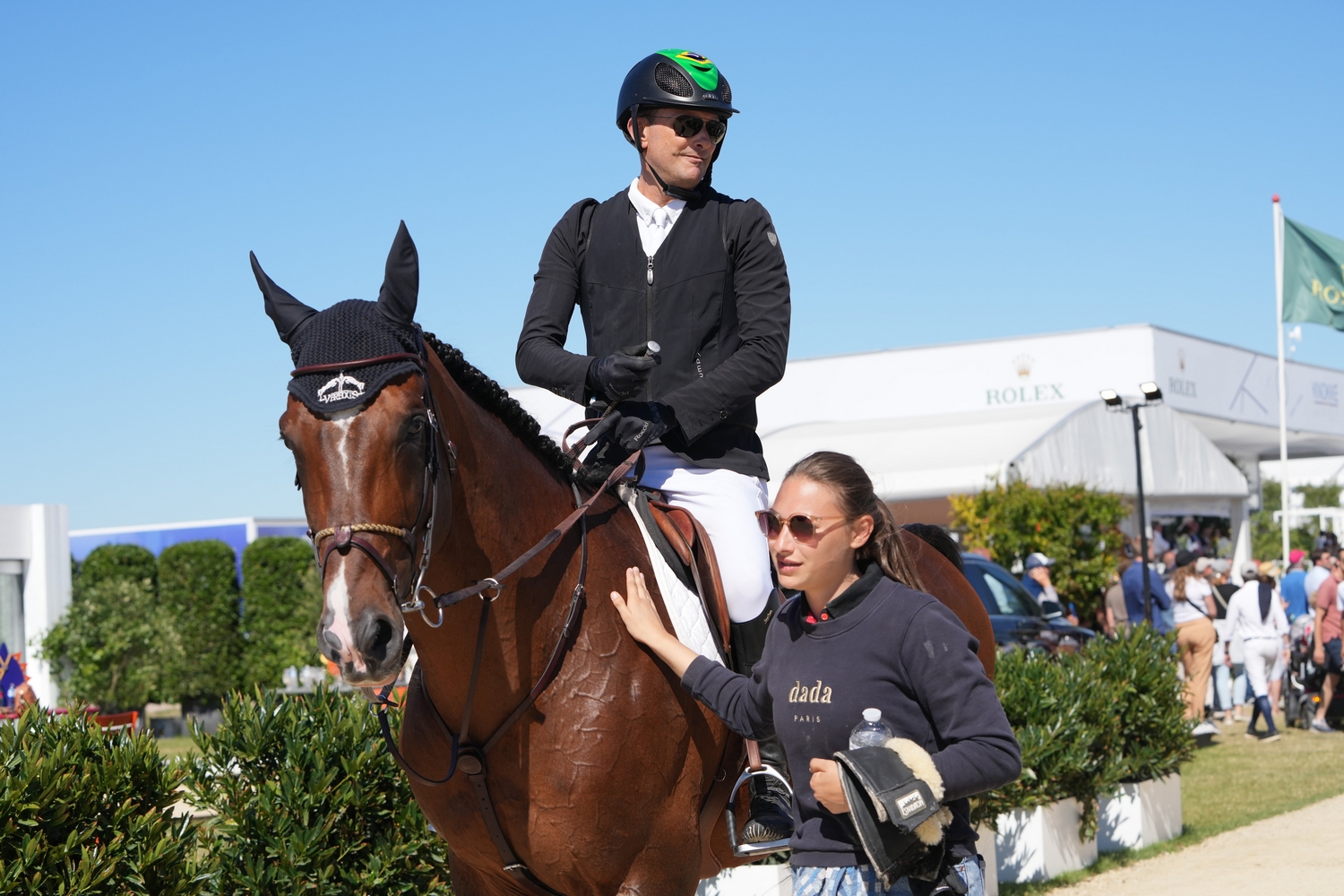 Bernardo, Mosito and the groom leave the track in Knokke. © Sportfot
Is it for sale?
I do not think so. It is good, but also very well produced. He's probably the horse we sold the most covers this year in Belgium. Last year, in the final exclusively for five-year-old horses at the Belgian championship, half of the thirty who entered came from him. (of the sixty-seven horses at the start of the five-year championship final, nine were either sons or daughters of Mosito, editor's note). He proved to be an excellent stallion.
"I think we have a chance for the world championship"
In Denmark, Brazil will present a very quality team. After a period of decline, do you think your squad is one of the brightest candidates?
Marlon Modolo Zanotelli is one of the best racers in the world (The Brazilian is currently eighth in the Longines world rankings, editor's note)Yuri (Mansur, editor's note) had the best Brazilian horse in the last Olympic Games (QH Alfons Santo Antonio, editor's note). pedro (Veniss, who will ride Nimrod de Muze, editor's note) and I have ponies that are not very experienced but are doing very well. We have inexperienced horses but seasoned riders. I think we have our chance.
What is your relationship with your national team coach, Philippe Guerdat?
The whole Brazilian team is happy to be able to count on him. We have a coach but boss, it's him (laughs). Everyone respects it and is very happy with it, including those who are not selected. With the results we got this year, I think he picked the best team.
Do you have predictions about future individual and team medal winners?
Sweden is clearly the big favorite (The team of Henrik Anckarcrona together were crowned gold at the last OlympicsNote). The Netherlands will also be very strong, although they have lost Willem Greve (victim of a fall, editor's note), like the Germans, who still act as lovers. Personally, I'm thinking of Henrik von Eckermann and Ben Maher (who will ride King Edward and Explosion W, editor's note). Boom hasn't skyrocketed this year but still a favorite game (gelding won an individual gold medal last summer in Tokyo versus a team gold medal for the Swede's accomplice, editor's note).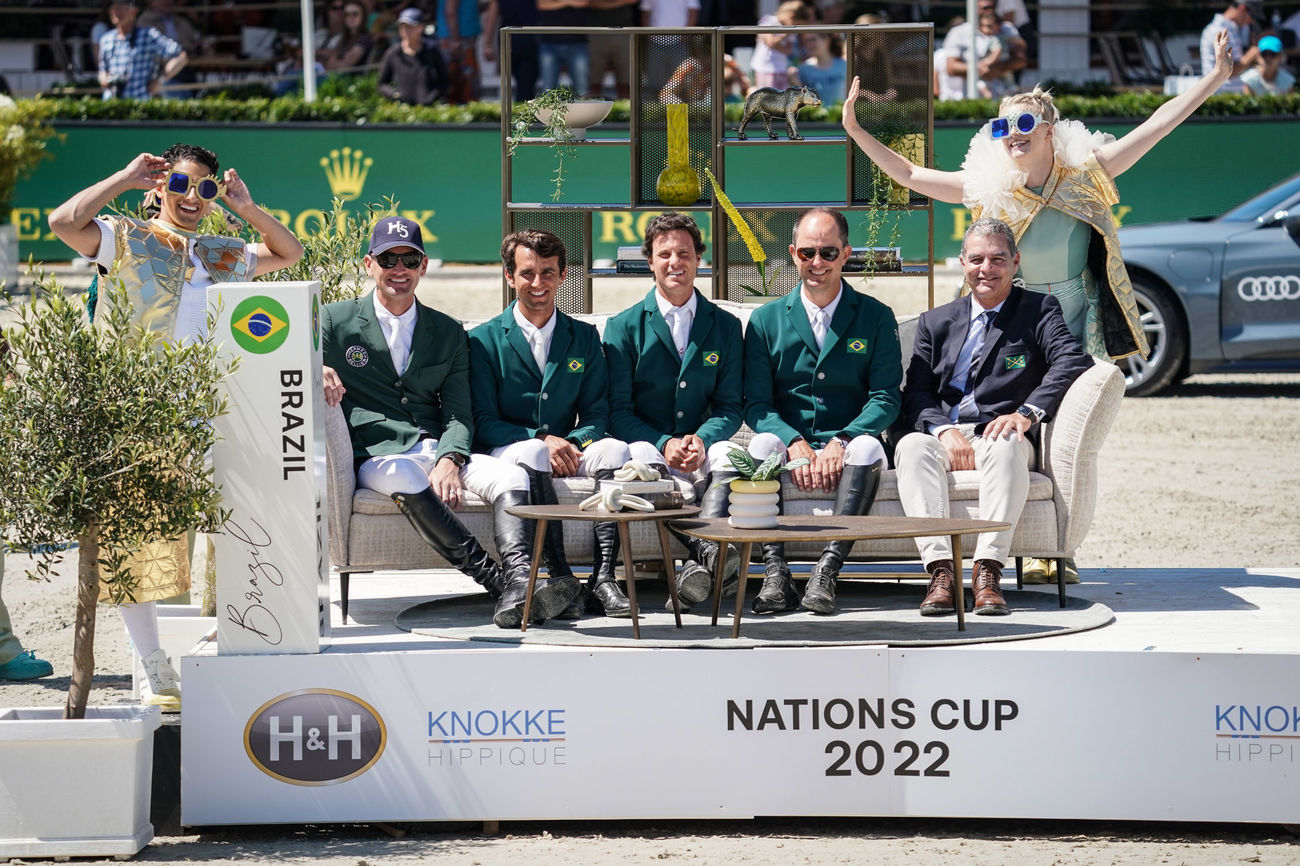 Part of the Brazilian team will go to Herning. © Scoopdyga
"After the Inter-American Games in 2023, the number one goal will be Paris"
What do you rely on? How does your system work?
I was installed near Antwerp, in Sint-Niklaas, at Muze's stables. I live quite far, near Waterloo, about sixty kilometers. Regarding breeding, I think these are the best possible structures. All the horses that come from them are special. Whether it's Vigo d'Arsouilles, Nabab de Rêve, London (ex Carembar de Muze), I'm Special de Muze… The class is extraordinary.
Are you trained by someone?
Since I'm in Europe, I always train with Neco (Nelson, editor's note) Pessoa. At Muze's cage, I was alone, but he was very often at my house. He gives me ideas and we talk a lot. He is a friend and a father, he has given me so much. I went to Europe in 2001 and he's been there ever since. Otherwise, he wouldn't come with me to Herning. Now we are in the "Guerdat system", so there it will be Philippe.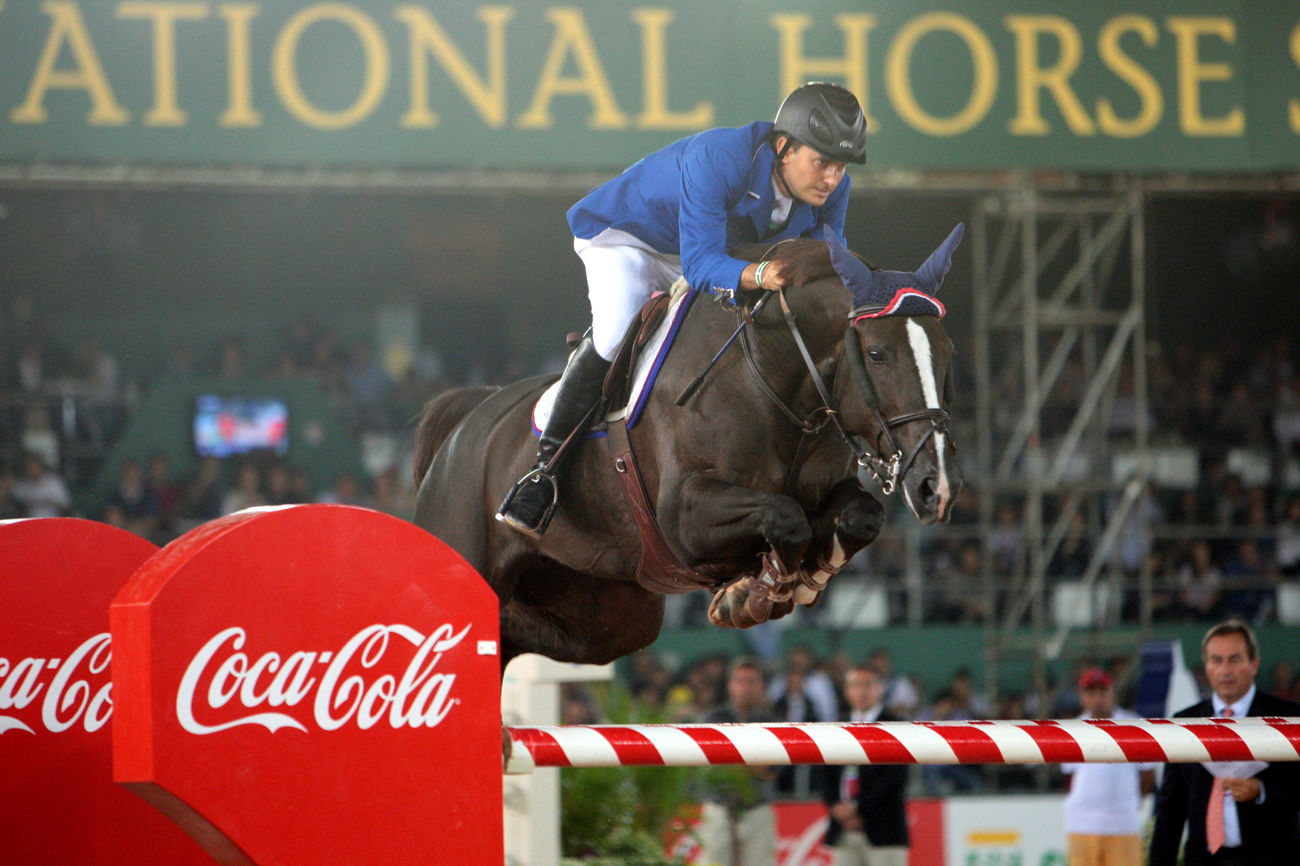 Bridgit, pictured here, was Bernardo's final accomplice in a major championship. © Scoopdyga
Once Herning is gone, what are your goals?
Mosito will have a vacation, then we will advise based on the results. Torreo danced really well his last time on the Moroco Royal Tour. He won the Rabat Grand Prix and won the Nations Cup double. So I think he will go back there, but nothing has been decided yet.
Your last Olympic Games, in Beijing 2008, does not end well. The men of Paris are approaching. Do you hope to be able to participate?
With a horse like Mosito, that's my goal. I just hope it's not too soon for him. With this year's world championship, I'm looking forward to the Pan American Games in 2023. He's proven to me that he's ready for it. Then the number one target will be Paris.
Featured photo: Bernardo Cardoso from Resende Alves and Mosito van Hellehof in Knokke. © Scoopdyga