How did you become a jockey?
From a very young age, I have been exposed to horses. My father was in the Republican Guard in the sports department in Paris. And when he arrived in Sarthe in 2001, he continued to perform and organize events. Around the age of 10, we had young event horses that we took to the races. This is how it all started. At first I sat in the saddle, then little by little, together with my father, we started to do some forays, pre-training and getting back on the road. Mr. Fouin and Mr. Peltier, that's how I know about racehorses. Then I went to see the various coaches in the area, besides Durtal, at Mr. de Beauregard For example. After the third time, I decided to go toAFASEC in Cream to specialize in this field and that's why I became a jockey.
What is the horse that has marked you the most in your young career?
Unfortunately, he disappeared this year. It was a horse that was with my master Christopher Dubourg, Doralou des Bordeswhich I won some crosses, in Craon remarkable. He's really a very, very good horse, he's the one I immediately think of. Of course, he has horses that took me a long time to unload but that horse is truly a great horse in my heart. I am always very happy to go it.
Why become a coach so young?
Because with my father, we started to breed purebreds. We currently have 4-5 hens of our own, and therefore 2-year-olds and 3-year-olds. Inevitably, when we predict ourselves, we want to see them run and even win. It motivated me to get my coaching license. On top of that, I'm still growing. Right now, I don't have too many weight problems but I know that in the near future I will have some weight problems. I don't want to lose myself four times in order to gain weight. My coaching license allows me to prepare for the future.
Will you continue the race?
Well, I don't plan to stop at the moment.
Where do you settle down?
In L'Stabilization of the Wolf. This is my father's breaking barn and pre-training. It is located in Sarthenext Precigne. My dad will help me get started, it's always better to have some help getting started. We have facilities, a track and some obstacles. Furthermore, we've had our family for five years, and we've broken in and done pre-training. We started doing some forays and pre-training our horses Jacques Seror. So I will join him sensibly and from now on we will start training horses.
How many horses do you have under your responsibility?
Currently, we only have horses from our breeding. Which represents four "2 years" and two "3 years". There are two owners who will definitely want to start the adventure with us before the end of the year. So normally we will have two more horses, maybe 2 years old, maybe 3 years old. We also have some clients who give us horses during pre-training, so if all goes well and they are satisfied, maybe they will leave them with me if all goes well. afterward.
Will you continue to work at Christophe Dubourg?
I'll keep jumping when he needs me but I'll be working mainly for my company. I still want to continue working on horses at Mr Dubourg because I still have things to learn, so we found this arrangement.
What is your short term goal?
Prepare my horses as best as possible for maximum reach and happy owners. And obviously win a race. But above all, there are employers who are satisfied with my work and who continue to trust me.
And in the long run?
To be able to progress in races, perhaps to race in Paris and win good races, it is a dream for any coach.
What major are you going to pursue?
Horse jumping, that's where I have the most fun. Given my height, I always just do the obstacle course.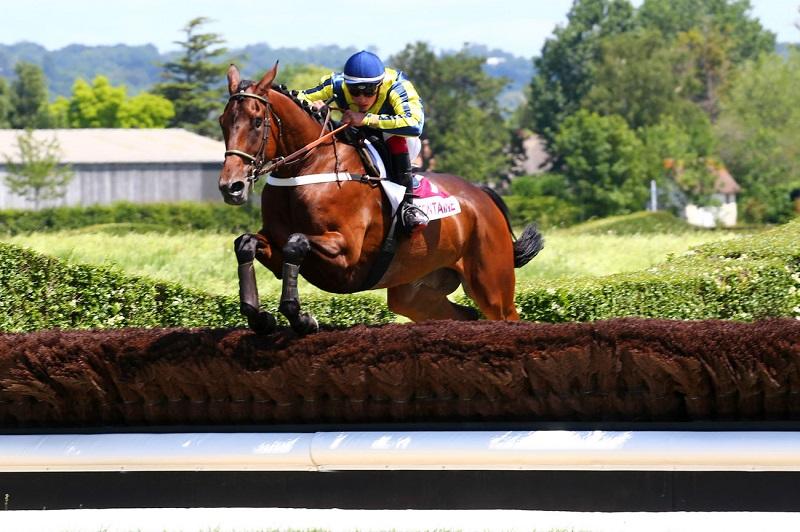 Who is your role model in your career?
The different bosses I had… sir Pond for example, I've always liked his way of working, his relationship with clients… But also my current boss, the way he prepares his horses when I see them running. It's people like that that make me want to be a coach. I also admire a lot Mr. Macarius. When you watch him do it, it seems easy, but you know it's not. His horses are always beautiful and well presented. It's nice to see and it makes me want to at least try doing the same thing (laughs).
When was your first boot?
If all goes well, I think I will start the business early next year. Time to make yourself known, go and chat with different people, go sales…. Try to promote yourself. So if all goes well, it will probably start in March 2023.