Thanks to his owner and the help of an animal behaviorist, this Australian Shepherd has found a good quality of life in his family. What are the signs of HSHA syndrome? What treatment? Info-chalon has collected the words of owners and carers.
Myriam Rossignol never gave up when she realized her dog had a behavior problem. She tried several approaches in vain before finding a solution with a veterinarian about the psychiatrist's behavior.
Symptoms of Pouki
Born on a farm, this young Australian Shepherd was adopted by a family in Saint-Rémy when he was just 2 months old. Myriam Rossignol has always had a dog, she knows the joy and responsibility of adoption.
"Every Sunday, I take him to dog training. We start with the puppy's school to socialize it, then we educate it in a group for training. Pretty quickly, I realized that Pouki's behavior was problematic. He is not tired and rests very little. At home, he was constantly molesting us, barking, walking in circles and biting his tail as soon as he was no longer active. It quickly became difficult to manage. The worst part is that we feel like we've tried everything. And sometimes the people around make you feel guilty: you're too loose, you don't know how to do it… Today, I know that it's through ignorance that we can talk things like this. »
Against all odds, Myriam continues to search for a solution. "We adopted him, not abandoned him! »
It is in La Rocade Clinic of Chalon that the door on the right will open. "Our veterinarian, Dr. Tuetey, referred us to a fellow psychiatrist, Dr. Bénédicte Salavert. »
Accurate diagnosis
That was two years ago, Myriam recalls: "Pouki was about a year old. I said to Dr. Bénédicte Salavert: I have a hyperactive son, I have a feeling that Pouki does too! She smiled then asked me to describe her behavior in detail: what situations, how to react? »
The diagnosis was made: Pouki had HSHA: Hyperactivity-Hyperactivity Syndrome.
"It's a developmental disorder, Dr. Salavert explains, meaning it's present before adoption. Therefore, it is not the masters that are responsible for this type of behavior, it must be specified. »
How do we know if our dog has this disorder?
The symptoms described by the therapist extend beyond the puppy's natural behavior, they often gradually learn self-control (specifically biting) and exhibit rational exploration of their environment.
"Warning clinical signs are characterized by motor skill hyperactivity; he never stops and has a tendency to jump on people. The dog is impulsive because it has poor emotional control and it is difficult to filter the information around. Therefore, it is constantly enticed by all the stimuli of everyday life, thus incessantly barking and whatnot. This leads to an abusive behavior that cannot be stopped: biting hard to stop, hard to calm down especially when playing, difficult to concentrate in school, lots of nonsense and destructiveness, they swallow more than eat and create feelings feeling is never satisfied. . These dogs are also more at risk for intestinal obstruction or poisoning. HSHA syndrome also exists in cats. »
Refer as soon as possible
The expert continued: "It is important not to let this situation persist because the owners are exhausted: they invest a lot in the dog's education and are frustrated by the lack of results. It even happens that these dogs are rejected in dog training courses, where they can sow discord. In addition, dogs affected by this syndrome may experience hierarchical disorders in adolescence because they have difficulty absorbing the social norms of family life. In this case, aggressive manifestations may appear. Therefore, we observe a change in the relationship with his employer. »
What are the possible causes of HSHA?
"They originate in the puppy's first weeks. This is why it is called a developmental disorder. When a puppy separates from its mother too soon, the puppy doesn't have time to teach it self-control. Or when the mother is overwhelmed, which happens with too many litters or for some immature mothers. »
So be careful, when you adopt a dog: give it time to learn from its mother. Also, make sure he stays in good contact with her until the time of adoption, some breeders separate the young from their mother as soon as they no longer need to suckle.
Yes, a solution exists
Dr Salavert explains: "Full recovery is unlikely, but a well-conducted approach allows for good control of the dog and its quality of life, as Dr. Salavert explains: "The Treatment is based on two simultaneous components: drug therapy using psychotropic and behavioral drugs. Medical treatment is aimed at influencing the dog's anxiety, impulsivity and helping him accept new learning. Behavioral therapy will aim to help the dog concentrate, regain self-control, analyze information from his surroundings by listening to his owner, which he could not do until then. The dog will also be able to enjoy certain activities and the human-dog relationship will be better for him. Depending on the progress made, drug withdrawal will be possible. »
Today's Pouki
Pouki is 3 years old. After being incarcerated, he returned to dog education and… obtained his first diploma: CSAU (Certificate of Sociability and Aptitude for Use).
"I am also lucky that my mother has two border collie dogs. Pouki learned a lot from them. Miriam added.
Dr. Salavert confirms this point, not anecdotally: "Putting a dog with HSHA in contact with adult dogs, "educationists," meaning the patient and good communicators, is beneficial. . Dogs learn a lot and more easily from interacting with their own kind, especially the rules of communication and self-examination. »
A great story, a great victory should not even make us forget that in France more than 2 out of 3 dogs are abandoned because of behavioral problems. More than half of them will be affected by HSHA syndrome.
At the end of the meeting, Myriam confided to us: "Usually I say to myself: fortunately Pouki fell on us, maybe other people abandoned him! When you love your animals, you try to understand them and do what is necessary for their happiness. »
We cannot end without welcoming the determination of Mistress Pouki.
Nathalie Dunand
[email protected]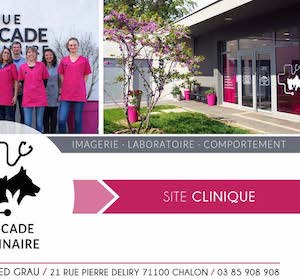 LA ROCADE . Veterinary Clinic
21 rue Pierre Deliry – Chalon-sur-Saone
Monday to Friday: 8 am to 7 pm – Saturday: 9 am to 3 pm
As. : 03 85 908 908