Some village names date from the 4th century Breton migrations. Others refer to the great destruction of the 11th century and the religious fervor experienced by this period. Rural life and agriculture are also the source of many landmarks.
The wolf has returned to Brittany? He was there, as many Brittany locals say: Gars-en Blay in Senven-Léhart (22), Poulbleizi in Ploudalmézeau (29), Carn-ar-Blei in Plounévez-du-Faou (29), Kerambleiz in Pont -l'Abbé (29), etc. Unless the person who lives in this village calls himself a fearsome wolf, can others be as clever as foxes? Indeed, it is very likely that Kerlouarn was occupied by a cunning man like Goupil in the very old days…
Aim for the real, chase the fantasy
Hervé Guéguen, head of signals and linguistic heritage at the Breton language office, explains: "In two out of three cases, the term descriptive refers to a person's name. This organization, which went public in 2010, is, among other things, responsible for helping municipalities with signage, ensuring "respect as much as possible for the local pronunciation written according to the rules modern spelling".
To date, 231 cities and 15 intercity structures in Brittany have signed the charter "Ya d'ar Brezhoneg" (Yes with Breton), one of which has the precise task of preserving linguistic authenticity. sounds and images of places. And so it's that totally weird names keep popping up like the "rue des Pélicans" in the Crozon peninsula or squared-off neighborhoods like rue des Violettes, des Capucines and des Papillons. Or, avoiding these linguistic biases turns Croez-Hent (crossroads in Breton) into Croissant (if only it were butter!). Sometimes the spelling isn't quite as fancy: Kergrib becomes Kergrippe, Ros (hillside) becomes rose or pri (clay) which under the pen of a city worker has turned into "price", where Poulprix. Simple way to turn a mud pit into a gold mine.
Elders are the transmitters of memories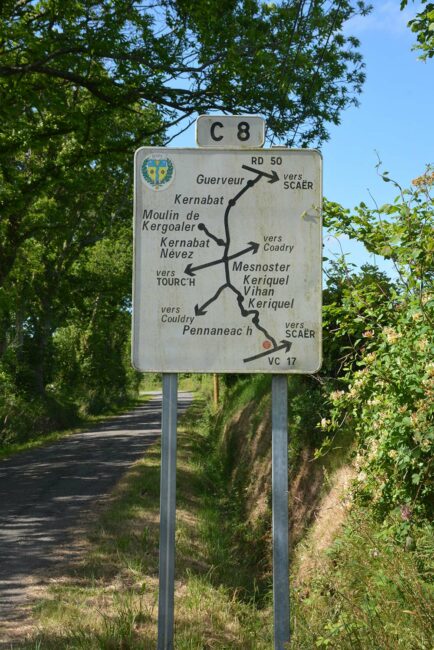 To get as close as possible to the old spelling and spoken form, the Office de la langue bretonne combines and replicates sources: meeting with local Bretons, consulting data from the century-old census 19 – especially of 1911 for its population density in the countryside – Cassini maps, Napoleon's cadastral, maps of the monastery, etc. A collection of local pronunciations, before these The last "native" speakers disappeared, now in progress. "For several years, Yannick Madec has been doing oral collection. It started with Vannetais before the rare and eventual Bretons from the area disappeared. He then toured Brittany to Paimpol, except for Léon, where the linguist and writer, Mikael Madeg, continued a collection he had assigned to the Bureau. Today, Yannick is finishing his Tro Breizh in Central Brittany," said Hervé Guéguen. And to arouse the interest and urgency of this work: "In 10 years, the oral library will disappear. Elders are the transmitters of memories. It is part of an endangered Breton legacy."
Because when it comes to landmarks, it's really about heritage. Hervé Guéguen recalls: "Since the 4th century, the Canal was not an obstacle as it is today but a means of travel", recalling the Bretons driven by the Angles and Saxons, who, upon ascending ships in Armorica, discovered abandoned or ruined sites. they designate by such names as kozh-kêr (old village), krugell (tumulus), Leure (megalithic monument).
In the 10th century, after the Norman invasions, "a period of prosperity settled in Brittany", continued the Breton language expert, who noted the development of localities during the period. this "with the specific ker which now designates a farm while earlier times ker derived from bamboo was used to refer to a fortified place, as in Trégastel (in the sense of a fortified castle). »
agricultural name
The generic terms ker, ou plou and others are systematically enriched with precise terms. Agriculture and animal husbandry are evidently present a lot in the names of localities. Kerfoen of Plouégat-Moysan points out that there is a lot of hay there or perhaps the farmer is simply good at making good hay. In Kerzunis, in Laz (29), a mixture of barley and wheat was certainly grown there, just as in Keranfostal, in Cléder (29), piles of sorghum must have stood, a sign of good land or a good farmer.
Farm animals were also the inspiration for the birth of village names. Parc-ar-Hézec, in Melgven, probably refers to the field assigned to horses. Sometimes the term is more accurate: mare for Poulhazec en Plouescat (29); stallions are mentioned in the Scolmarc'h (horse school) in Querrien (29). Very old in the territory, cows are very present in place names: buoc'h, – cow in the singular – declines in Poulbioch in Plouvorn (29) and Toul-Veuh in Glomel (29); its plural saout, found in Pont-ar-Saoult in Poullaouen (29); identifiable beef in Coat-Noenneg en Collorec (29). As for the bull Tarw, he interjects Penterff en Plouay (56). For the first time, it is unlikely that there is a certain impressive bull in this village, but it is more likely a rude man with the head of a bull or simply unattractive or even belligerent like his totem.
From West to East
In the western part of Brittany, landmarks are mainly Breton. "The eastern part of Brittany is more complex and is often divided into two spaces," explains the Breton Language Office. In the far east, apart from Rennes and Nantes, toponymy is of Gallic, and especially Romanesque, origin. However, the typical Breton words appear infrequently. In the middle is a mixed zone.