How do you feel after the first week of the Tour?
I'm pretty good. We are working on our goal, which is to put David Gaudu on the podium in Paris. That's a positive, we also play to win on stage. Personally, I feel really good, I have had an excellent start to the Tour de France with very good feelings. It's still very long, I hope it lasts. I feel like I have the strength to win a race but the goal is to support David.
Can you tell me about your passion for horse racing?
It was my girlfriend, Nathalie, who instilled this passion in me. She has sluts in the family: her parents and grandparents (Chaumont family, editor's note) have a ranch near Avraches. I got used to this environment when I met my wife. When I don't have a track, we try to go to the racetrack. I think it's a world very similar to the world of cycling. When I talk to the coaches, they also see a great parallel between cycling and horse racing. I found the link very interesting.
© Nicholas Goetz
Are you talking about Gaudinières spawning?
Exactly. My girlfriend's grandfather had three mares and when the foals were weaned they would go to his parents 5km away. There are many in the field between Ducey and Avraches.
You have "K" Kella Gaudiniere who just qualified in Caen…
She is a well qualified woman. We'll see his next race, on August 7, and we hope that it goes well into the future. Mr. Chaumont won the Vincennes with Abel Gaudinière in 2013. We hope the same fate for her and we mustn't forget the other two "Ks", who will also try to qualify very soon. .
Kella Gaudiniere Qualifies This Morning In Caen Thank You For Streaming @ProvinceCourses # mating #gaudiniere pic.twitter.com/VPZHefmcW8

—Nathalie Chaumont (@nathchaumont) June 22, 2022
You say you often go to racetracks, which roads?
I've been to Vincennes a few times, I've seen two Prix d'Amérique and also the Prix de France. It's my girlfriend's birthday during the Prix de France so we always have a weekend in Vincennes for her birthday. I also used to go to Caen racecourse when she lived there. But the one I like is Cabourg's. It's a hippodrome that smells of summer, full of people and it's very pleasant. I also did a match in Bordeaux. As his horses ran, we tried to go see them. During my cycling holiday we went to Solvalla in Sweden to see Elitloppet. I had 4 days off and it was Nathalie's dream to go see this race. Incredible had an incredible race. We were with all the French there, with the owners and we had access to everything. It's great.
Did you know this environment before meeting Nathalie?
No, I don't know about this environment at all. I live in Brest and have very, very few meetings so I don't mind it at all.
Are you more of a runner?
I don't know everything yet. I get the info, I watch Equidia to see the gallop races and it's also fun to watch. Anyway, the world of horse racing is an area that I am interested in in the future.
Exactly.. do you want to be the owner?
Obviously yes. I want to invest with my girlfriend, we will try to do it next year. Then we'll think, we're not going to take one to get one. Our goal is not to spend extravagantly. We want a horse that will grow, to live with passion. If it can be a crack that much, all the better but I just want him to run and be healthy. It can be good to do it together.
Earlier in the interview, you drew a parallel between horse racing and bicycle racing. How are these two worlds similar?
I think there are a lot of similarities. The worlds of horse racing and cycling are very similar: races follow, seasons stretch, training and even recovery. Also has grinding, looks very similar. Like horses, cyclists need races to do well on goals. When you talk to trainers, the exercises are also very similar: with rhythm, foundation. We try to lose weight like the horse, then it's much more difficult for us. With great coaches, they perform important therapies: like spa, jacuzzi, chiropractic. Like us cyclists.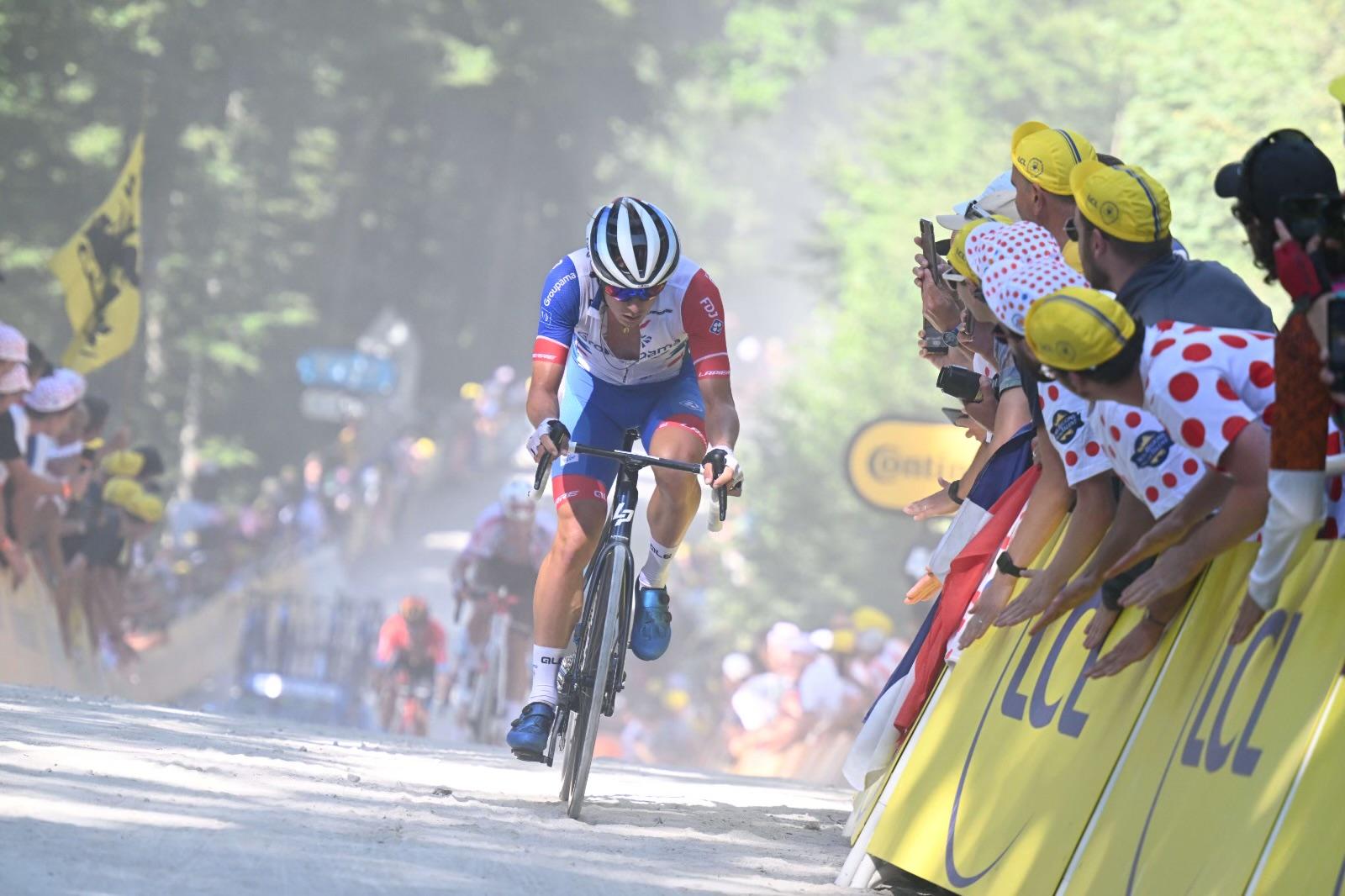 © Nicholas Goetz
Have you ever ridden a horse? Does it feel like being on a bicycle?
No, but I really like it. I think there's some common ground with downhill biking. I talked about it with Sylvain Chavanel and he always told me "these are the strong feelings behind a sulky like on a bicycle". We feel the strength of the animal, it rubs a bit like in marbles. You have to take your place right and make no mistakes.
You talk to me about Sylvain Chavanel, a former professional athlete. Are there any other athletes interested in racing?
I talk about it but they don't know too much (laughs). I often discuss it with Marc Madiot, my sporting director, who still has shares, including some horses with his brother Yvon. They have a lot of horses in Mayenne. As for Sylvain, he raced like an amateur racer and even won a race. He ran with the horses of Philippe Daugard. He's on the Tour de France right now so we talk about him a lot.
Which horse impresses you the most right now?
The level has become very uniform. Face Time Bourbon really impressed me, the acceleration, the ability to turn easily, the way to trot. The fact of having seen Etonnant in real life is remarkable. He really has something extra, he stands out.
Let's talk about the ending prediction… Who will win the Prix d'Amerique?
I see maybe a young player wins it or why not Galius.
And the Tour de France?
It's not easy (laughs). Tadej Pogacar remains the most popular player, what he has shown so far is exceptional. I see him take his third place. Physically, he's monstrous. We are still behind him. But anything can happen, that's the magic of Tour. It's been a long time, the hot sun is coming. I repeat, anything is possible!